This week is going to be .... difficult. I am the only functional web team member this week, and I have a bunch of upgrade and implementation to push through. It will probably be 9am-midnight all week for me.
On the plus side, a friend has hired me to paint his Dwarf army. My painting skills have improved a lot in the last year, his desire to paint rank-and-file is diminished, and I am charging him far less than a painting service we perused online. Far, far less for (in my opinion) a roughly equal quality paint job as the service. It all adds up to my first commission painting job.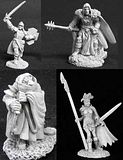 In the meantime, I have chosen four mini's from Reaper that look to be both fun and a good exercize of the tips given to me on the cmon forums. I'm sticking to a fairly monochromatic palette for each, using my new handy-dandy color wheel to accentuate in colors that are pleasing to the eye. I hope... (nervous laugh again.)
I'll likely start to post more images if this becomes a painting and dollhouse construction blog as much as a rant blog.